In this article, I'm going to tell you about a great French brand with which I'm forging one of my rare partnerships. Indeed, if I don't have blind faith in the brand, I don't offer it. It is therefore with enthusiasm that I invite you to read this article and discover this company and its products!
A masticatory need to be filled
As all my clients and readers know, I am a big fan of masticatory games, olfactory games and intelligence games for our dog friends. It starts at a very young age to meet an important masticatory need but also to help dogs of all ages exercise healthily and manage their emotions.
A dog that chews is a dog that calms down and will not come to bite you, jump on you, ask you constantly. During behavioral exercises, he is a dog who receives a present of great value and for whom frustration can be better managed given that his need for occupation is met in an ultra-positive way.
Result: Feeling of satiety + mental expenditure = a dog well in his paws.
Find the right chewing game for your dog
I therefore send after each of my behavioral assessments a list of games to replace the traditional ball throwing and fighting or rope games with our dogs. ALL dogs love to chew. There are the big chewers who will spend hours there every day and there are the more demanding little chewers who are satisfied with a low chewing activity. We have to find THE product(s) that correspond to our dogs in terms of :
taste (perfume, type of animal) and smell
texture (hard, soft, chewing gum, to crumble, to tear, crunchy, greasy, dry, etc.)
the size (large, small, cut in 2, to swallow quickly, easy to hold…)
variety: you have to vary the pleasures to keep it interesting. If you ate the same Christmas meal every day, you too would be bored 😉
Safe chewing game
There are points of vigilance that are incumbent on you when you offer chewing games to your animals:
digestion (some dogs are allergic or certain meats will put them in diarrhea so you have to test)
the way to consume (some dogs are gluttons, it is advisable to choose products that are not swallowed whole at the risk of the dog choking.)
---
Be careful, it is normal for a dog to swallow and vomit a piece that is too big. Dogs are carnivores, they tear the animal product and then swallow it for an ultra-efficient digestion (acidity ++ of their stomach). Some dogs will shred everything into small pieces, take their time, others will quickly swallow large pieces. I advise to stay close to see how the dog is doing in order to avoid any danger and to adapt if necessary. Word from gluttonous dog mom!
---
It is therefore important, as you will have understood, to be able to offer various products for a whole host of reasons, the main ones in my view being: finding the products that our dog likes, varying the pleasures and bringing some pep to the life of our dog as well as having something to occupy our dog in a healthy way!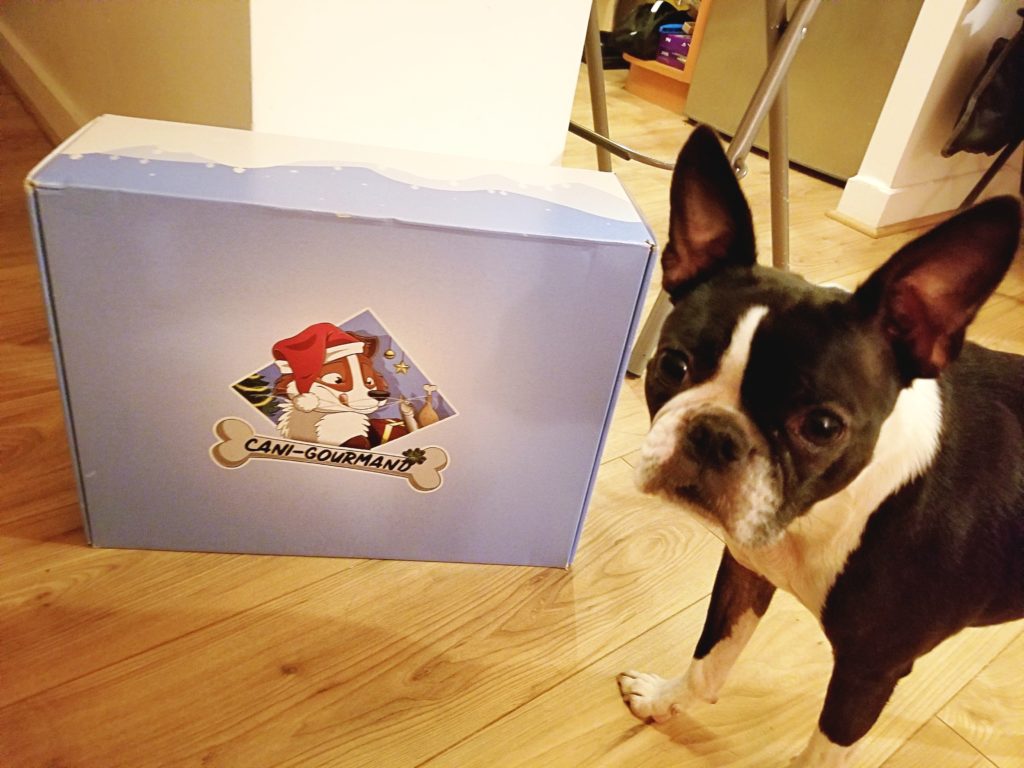 A reference for choosing your masticatory games
What was my joy when Cani-Gourmand, a French brand offered me to test its Advent calendar for my dog's Christmas. This young brand only offers 100% natural products (hallelujah, let's stop with the buffalo skin bones with glue found everywhere…! To forbid).
A few days after agreeing to test this box, I received it. Very nice box containing 24 hermetic bags with a number on it. For each number, a brief explanation of the product inside. I found it clear and pleasant. It allows us to test a wide range of products so that we can then order the ones that our dog liked.
Here is what we were able to taste (vegetarian abstain!):
chicken leg
Beef tripe
deer slat
Rabbit skin
Lamb tripe
chicken neck
Wild boar slice
Cube of lamb
Chicken fillet
deer skins
beef esophagus
calf hoof
chicken heart
ox tail
Pork slice
bunny cube
beef lung cube
Beef skins
Duck strip
pig ear
Cod skin braid
Slice of beef
Cube of cod skins
Chicken slice
To have a real little glutton at home, I'm glad to see that most have been consumed safely. Only the slats gave rise to gluttons-vomit-re swallowing (yum).
The textures and tastes are very varied, which my dog ​​loved. She ended up telling me what she preferred. Every day she waited for me in front of her box so that I could offer her a new flavor.
Cani-gourmand is not stingy, the quantities are important. It's January 6 and the box is far from over!
I find the box format particularly suitable when you don't know what to turn to and you need to vary the pleasures.
Clearly, I would never have tested certain products so the idea of ​​the box is good in order to be able to offer new things. I was surprised by my dog's preferences.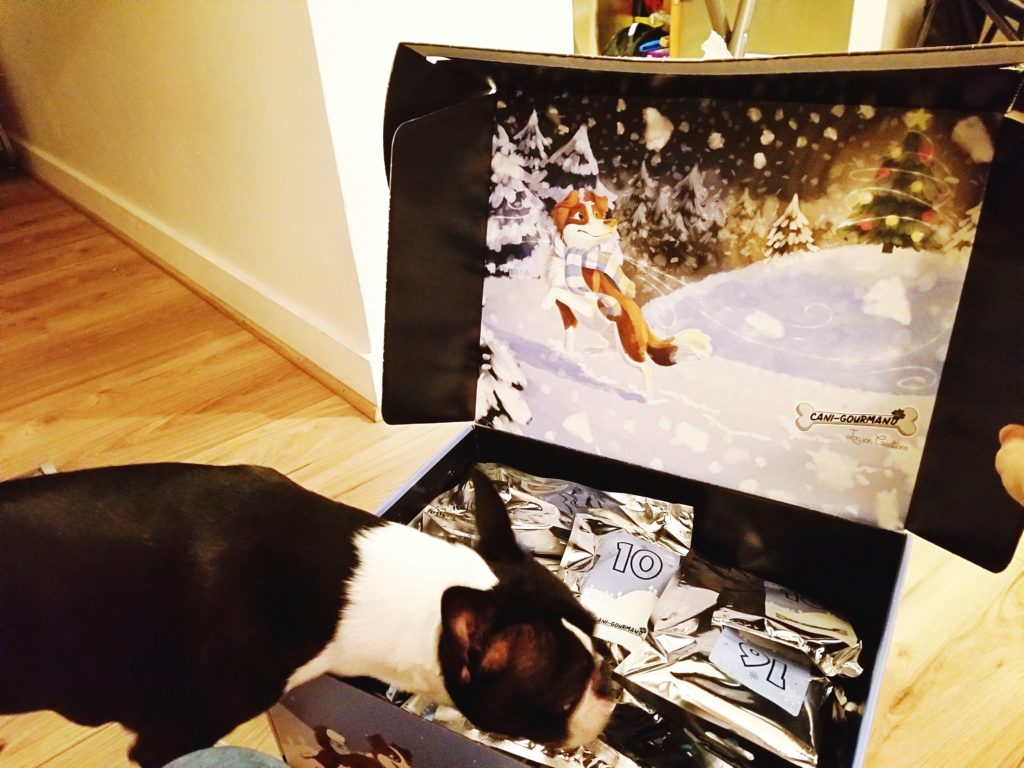 An affordable price for the market
The price of the box, 39.99 euros (Colissimo shipping costs included), is particularly affordable when you consider the price of individual products on other sites such as Amazon which offers high delivery costs or in convenience stores. .
In short, I am conquered.
If you also want to test the box or quality products in a smaller format, you can order via this link which will allow you to have a 5% reduction: CANI GOURMAND x PARLEZ Vous CHIEN
Future themed boxes
In the coming months, the brand will be offering themed boxes so that our little ones are not harmed when we stuff ourselves with chocolate, we bask in the pill at the beach or when we eat candy or undergo a spell!
They each contain 4 types of treats, a toy, a treat/sample and an exclusive.
Basically, there will be 3 future themed boxes:
April: Easter
in July: Summer
October: Halloween