In these times of confinement, we are all looking for new benchmarks in order to occupy ourselves and reassure ourselves. The same goes for our dogs.
They are beings of habit who need rituals to reassure themselves. This is all the more true in this ambient stress that they obviously feel.
This article aims to help you to balance the occupations for your dogs according to your lifestyle but also to readjust various of your behaviors to allow them to maintain an emotional balance. I address a few points that seem essential to me before the déconfinement.
1. Your dog's occupations: a level to maintain according to your lifestyle
Your dog's outings with confinement:
Depending on where you live, you will be more or less restricted.
Those who live in townwill end up with a small perimeter and few possibilities for walking and the impossibility of letting go of their dog. For you, it is important to keep going out and take advantage of the time that is still allowed to you. Walk very slowly, let your dog smell the scents, change sidewalks and optimize your mile. The walk will be an opportunity to exert yourself mentally for your dog. Do not miss this moment by the wayside, it is essential for your dog. You may have the opportunity to meet fellow creatures, which is particularly positive for this social being who lives by your side, your dog!
Those who live in less confined spaces and closer to green spaces, you can continue your walks. Your dogs are lucky. Be careful, too much is not needed. It is not because you have time that you have to multiply your outings or the time for walks. Remember that confinement will not last the life of your dog. A dog picks up new habits quickly and will need the time you give him to persist. However, when your "normal" life resumes, you will probably have less time for outings. Behavioral problems may then appear.
The occupations of your dog during confinement:
For those who see their walking time or the quality of outdoor activities greatly reduced, it is absolutely necessary to offer your dogs complementary occupations at home.. You must be able to tire your dog mentally above all. Here is a list of occupations that will do just fine.
These activities will allow your dog to exercise, calm down and reflect.
Those who have a garden, you can also offer agility-type activities to your dog to get him moving and work on his proprioception.
For those who have maintained a normal exit rhythm, do not over-stimulate your dogs. Do not offer them too many activities that would increase their usual pace. Remember that when you are not there, your dog sleeps. It's not about disrupting his rhythm because you feel your dog is bored. Once you go back to work, no one will be there to offer your dog activities and it will be convenient for him to know "do nothing" like before. Do not disturb his achievements. Again, the best is the enemy of the good, your dog could develop behavior problems when you return to work if you don't follow these tips.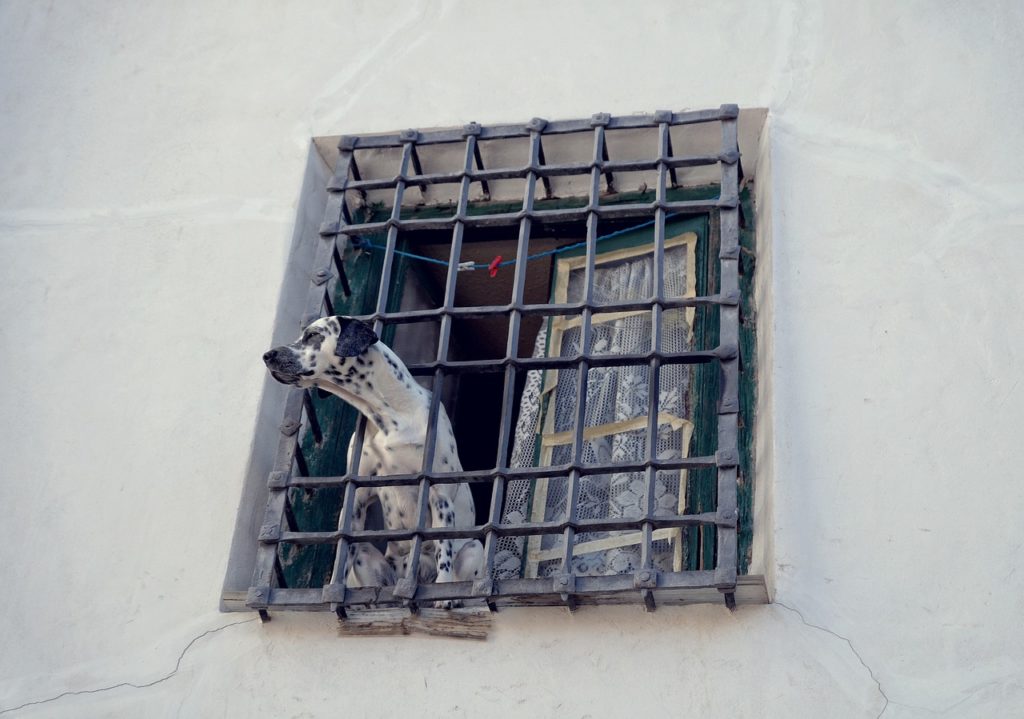 2. Other dog needs to be met during confinement
Various needs and behavioral aspects are to be considered before the end of confinement to prepare our dogs for deconfinement.
The socialization of your dog must be maintained:
A dog desocializes very quickly this means that your dog may develop difficulties in communicating with congeners if for a while he does not see any. I assure you, it can come down to a less ideal approach or a game that is a little too violent. For other dogs, it can turn into fear and/or aggression.
It is therefore important to meet the socialization needs of our dogs. We must try to see congeners. Ideally at least one a day.
Be careful, veterinarians are reporting a growing number of bites. This comes from the desocialization of our dogs but not only. In effect, some owners get together and let their dogs interact in groups and get excited, which can end very badly. Prefer encounters between two dogs who cross paths and who have the possibility of putting distance between them if they wish.
The level of ambient stress to be taken into account
Also pay attention to the stress level of our dogs. We are stressed so our dogs too. A stressed dog is less tolerant and therefore more reactive. So we socialize but not just any way and not at any price.
Do not create hyper-attachment with our dogs
The other point that I wanted to address as a priority is the bond of attachment between us and our dogs.
It is especially comforting to have them with us in this difficult time. Be careful, however, to consider the future. For the moment, we are confined, so all the time together. But on a daily basis, our dogs are supposed to know how to be alone and live it well.
It will therefore be essential during this period to leave our dogs alone at times, to know how to ignore them, not to respond to all their requests, not to be glued all the time… Those who do not respect these rules will see a hyper attachment develop in their dog. . Who says hyper attachment says insecurity in our dog and distress when we are not with him. These feelings can also manifest themselves in behavioral problems (destruction, barking, mutilation, etc.).